Parkland Golf Academy
---
---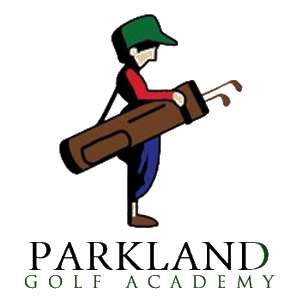 Click here to go to Parkland Student Athlete Academy homepage and the Parkland Golf Academy Virtual Open House link! PSAA Virtual open house is scheduled for March 9th at 6:30pm. PGA virtual open house will start at 7:15pm.
PGA Home page is still under construction.
The Parkland Golf Academy (PGA) is an exciting skill development program open to students of all genders from Grades 6 through 9. Under the guidance of qualified CPGA Golf Professionals, students will be working on all aspects of the game and the Rules of Golf. Parkland Golf Academy will provide a rigorous, relevant, academic, and comprehensive golf program designed to meet each individual students needs and is committed to improving each student athletes confidence, individual playing skills, and overall athletic development. On average students will be on the driving range, putting green or on the golf course two times per week. In addition, our athletes will receive golf specific physical training throughout the semester by certified trainers.
As part of the development program for the months of February and March, PGA students will be at On Par Virtual Golf in Spruce Grove once a week were they will receive CPGA golf instruction. PGA students will also have the opportunity to play golf at the On Par Virtual Golf facility.
The program will start for the 2021-2022 season and will only be offered in the second semester.
Program Information
Cost: TBD per month. This includes all programming costs, midday transportation to facilities and apparel.
School: Broxton Park School Address: 505 McLeod Avenue Spruce Grove, AB T7X 2Y5 Phone: 780-962-0212
Golf Location: The Links Spruce Grove Address: 100 Links Road, Spruce Grove, AB T7X 3B4 Phone: 780-962-4653
Virtual Golf: On Par Golf Address: 485 South Ave, Spruce Grove, AB Phone: 587-286-4653
Dryland Location: EHA Development Centre (11072-261 Street, Acheson, AB)
Transportation: Students will be bused to the facilities for the golf program, where they can be picked up at the end of the day.
For information on the Flex and R&D days please visit Parkland Student Athlete Academy (PSAA)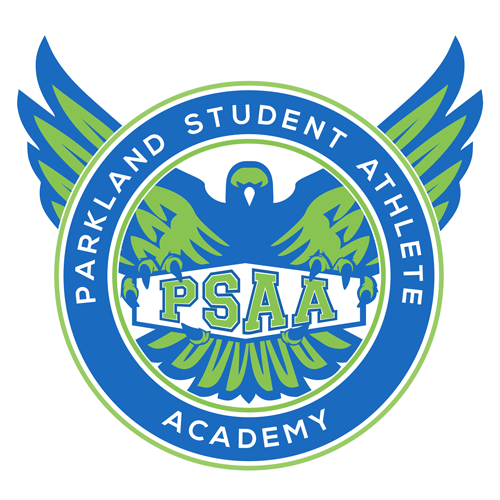 Golf Schedule
The Golf schedule runs on a six-day rotation. Below is a sample three-week schedule: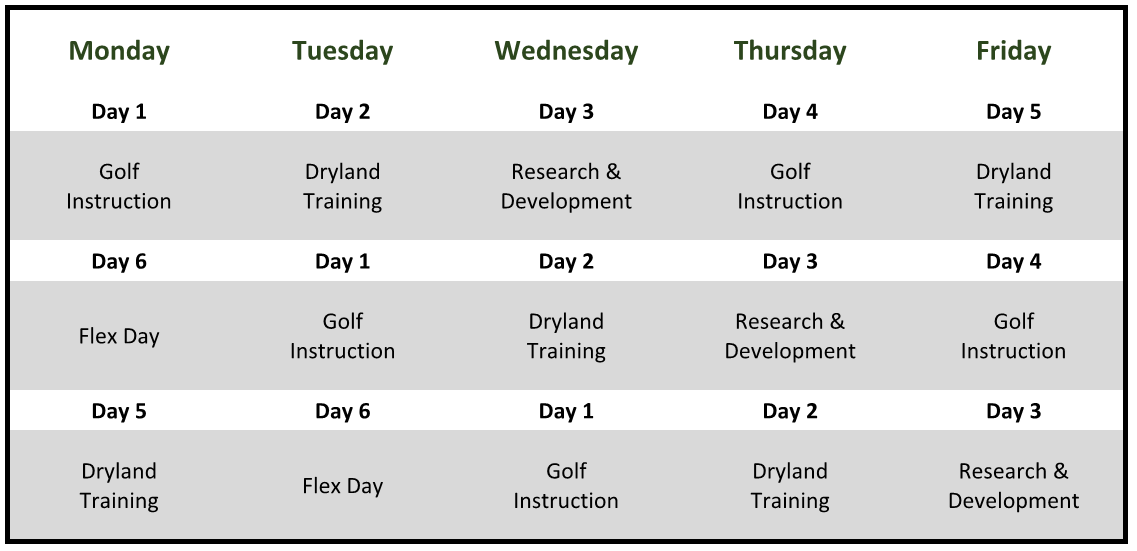 Golf Instruction Overview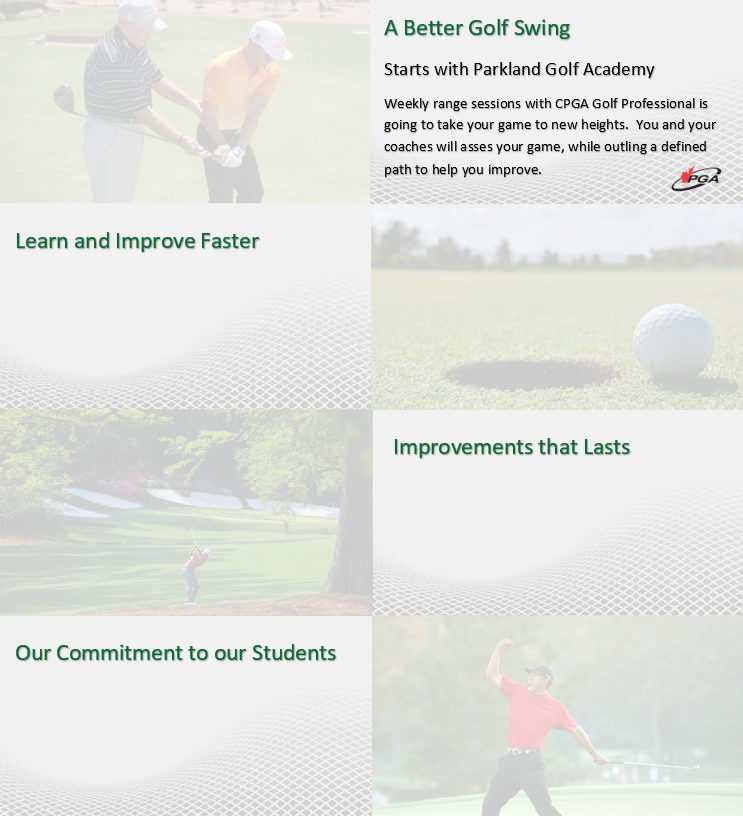 PGA Training Program
All training sessions will be at the EHA Development Centre
click here for Golf Specific Training Overview
click here to view the Athlete Evaluation Form
Organizations, Lead Coaches & Instructors
The golf program is a collaboration between a number of organizations, made to deliver a strong, well-rounded program focused on developing complete golfers.
Craig Kibblewhite and Jason Fischer started Parkland Hockey Group seven years ago to service Stony Plain, Spruce Grove and Parkland County. Since then we have expanded out across Alberta to teach numerous coach clinics, perform player evaluations and complete countless player clinics. Last year Jason and Craig started Parkland Hockey Academy as part of Parkland School Divisions Student Athlete Academy.
Craig Kibblewhite was a CPGA Golf Professional for 18 years. He attended school in San Diego were he became a member of the PGA of America and received his playing status for both the United States and Canada. Both Jason and Craig are excited to bring this program to the students of Parkland School Division.
Vee Thephasouvanh - Head Golf Professional - The Links at Spruce Grove
Vee is a fully certified "Class A" PGA of Canada golf instructor who graduated from Grant Macewan University's Professional Golf Management Program. His extensive background and experience as both a player and instructor will help make your instruction time rewarding, enjoyable, and memorable. Vee enjoys meeting new people every day and takes great pride in being able to coach a wide variety of skill levels as well as tailoring programs for the individual.
While Vee is always pushing his students to succeed and enjoy the game, it is his great patience and teaching philosophy that make him unique. His love of the game and positive attitude are a great match for newcomers and experienced golfers alike.
Ryan McDermott - Golf Professional - The Links at Spruce Grove
Ryan McDermott has been an Assistant Golf Professional in the Canadian Professional Golf Association for 5 years now. In addition, Ryan has been employed with the Links at Spruce Grove for the past 10 golf seasons. Through this, Ryan has led several youth golf camps, while also administering individual golf lessons to students of all ages and skill levels. With a recent partnership with Alberta Golf, Ryan has co-led Junior Development Camps, focusing on furthering youth development within the game of golf.
As a professional, instructor, and leader within the golf industry, Ryan has displayed his commitment and passion to golf in continuing to grow the game for young athletes. Ryan brings an exciting and technical outlook on the game of golf, challenging and advancing youth golfers to the next level.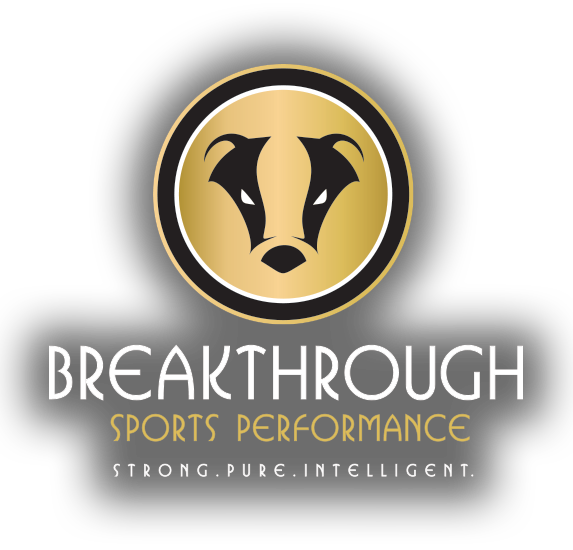 Richelle Cygan is an honours graduate of the NAIT Personal Fitness Trainer diploma program, and an accredited Personal Trainer with the prestigious Canadian Society of Exercise Physiologists, who was mentored by Simon Bennett (Head Strength and conditioning coach for the Edmonton Oilers) and his colleagues for 100 hours where she learned about program design and implementation for athletes at AAA, WHL and NHL levels, and gained valuable insight to a variety of sports programming.
Richelle has been personal training since 1998, specializing in youth athletics for the last eight years. She is headed into her third year with the Alberta Junior Hockey League where she is a consultant for the Spruce Grove Saints, and is working towards a Physiotherapy Assistant diploma from Medicine Hat College. Richelle is also Precision Nutrition Level 1 certified and is proud to help with general nutrition.
Locations
The Links at Spruce Grove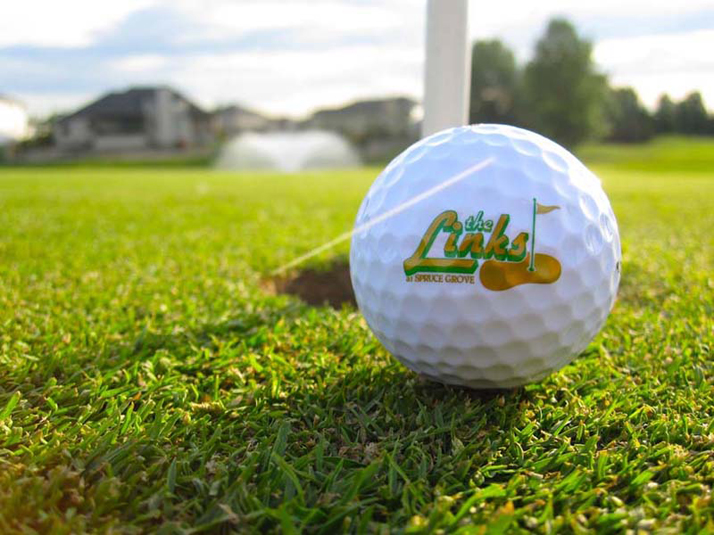 On Par Virtual Golf